Pass-on clothing ready for recycler's pick-up!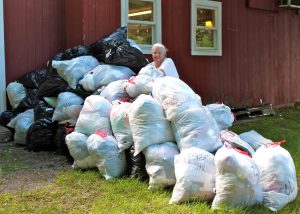 We only accept donations during shop business hours (Wednesday through Saturday, 10-2:30); call ahead if you have any questions – 203-263-3506.
We do not offer pick-up or delivery services.
We do not have laundry facilities; please make sure your clothing, bedding, and other donations are clean.
We ask your cooperation in keeping the weight of bags and boxes of donations under 30 pounds, as many of our volunteers cannot manage anything over that weight.
We also ask that you not bring excessive amounts of donations at one time, such as the complete leftovers from your tag sale, or whole-house clean-outs. We cannot process nor store large donations. There are several local organizations which will gladly pick up large donations, and have trucks and manpower to accommodate your needs. Acts 4 Ministries in Waterbury (203)574-2287, Habitat for Humanity ReStore (203)744-1340, and the St. Vincent DePaul Society (203) 754-3695, will all welcome your donations. All are registered charities and will provide tax receipts.
Please keep the health and safety of our volunteers in mind, and do not donate moldy, dirty, dusty or broken items.
If you wish to donate clothing that is no longer useable, please separate these items for recycling in a bag marked "PASS ON".
What We Welcome:
 Furniture (desks, tables, chairs, bookcases, couches, dressers – please call first!)
Clocks, Clock Radios, Alarm Clocks
Lamps & Lamp Shades
Household linens (towels, sheets, quilts, duvets, blankets etc.)
Housewares
Small Appliances*
Vacuum Cleaners*
Seasonal Decorations
Household Décor
Books
Arts & Crafts Supplies
Art Work
Jewelry & Collectibles
Building & Household Tools
Area Rugs & Throw Rugs
Dishes, Glassware, Flatware
Pots & Pans
Toys, Games & Children's Books
Small Sporting Goods (skates, balls, bats, sleds, etc.)
CDs & DVDs
Garden Tools
IN-SEASON ONLY adults/childrens clothes, including outerwear, shoes, purses, belts.
*MUST BE IN WORKING ORDER WITH NO MISSING PIECES PLEASE!
What We Do NOT accept:
Electronics (TVs, VCRs, DVD players, Audio Equipment)
Computer Equipment
Magazines/Textbooks
Pillows/Mattress Toppers (unless new)
Mattresses
Used undergarments
Exercise Equipment
Bicycle helmets
Large appliances
Anything broken, missing pieces, inoperable, stained, moldy, dirty, or dangerous
The Red Barn reserves the right to refuse any donation which we deem inappropriate.
Follow us on Facebook!
https://www.facebook.com/redbarnwoodbury/